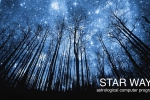 April 2021 promises to give a chance to those who are thinking about career development, expanding financial opportunities, and starting new projects.
The month passes under the influence of the sign Aries.

The sign of Aries combines energy, ambition and pressure; it is not for nothing that the patron saint of this sign is the fiery commander Mars.
If you have big plans, it's time to tackle them in April. Moreover, in the second half of the month, the Taurus banknote will balance the balance and direct energy into a practical channel.

Do not forget that in April, an important astrological factor of 2021 continues to operate - the conflict between Saturn in Aquarius and Uranus in Taurus, symbolizing the struggle between the old and the new, bringing crises and new ideas.

In addition, the duel between Jupiter and Saturn in the sign of Aquarius continues. Harsh Saturn will continue to hold back the implementation of new approaches and ideas that Jupiter in Aquarius suggests.

Another important event of the month - Pluto goes into retro motion from April 27 to October 6, 2021.
During the period of Pluto's retrograde movement, you can face repetitive situations that deprive you of strength, make you defend yourself if you lose control of yourself.