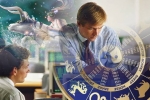 At the beginning of 2019, Co-Star and Sanctuary applications attracted market attention. The first one was launched at the end of 2017 and since then it has been downloaded more than three million times. In early 2019, Co-Star received five million dollars from venture capital funds Maveron and a Libra and 14W. This is a free application that uses the neural network to create forecasts based on the date, place and time of birth. The main feature of Co-Star is its similarity with social networks. The application allows you to add friends, compare your horoscopes and, of course, look for the perfect pair.
The second application, Sanctuary, launched in March 2019. It allows you to receive personal advice from the astrologer through chat, plus provides daily personal horoscopes. The application has already attracted 1.5 million dollars. The third project was the Pattern - it was created by the co-founder of the company Maker Studios. This is the leader in creating online commercials, which Disney sold for nearly $ 700 million. This application is only preparing to attract funding.
Investors have no doubt that astrological startups have a great future - Co-Star is tipped by the success of the music app Spotify and Tinder, and Sanctuary is already called Uber among the astrological apps. According to investors who have invested in Sanctuary, their decision on the one hand caused a lot of laughter in the financial world, and on the other, all market participants understand that astrology is becoming part of American culture, which promises astronomical amounts of money, estimated in billions. This has already happened in the United States with meditation, which in recent years has gained immense popularity as a means in dealing with stress. The Calm application, created in 2012 to aid in meditation, by the beginning of 2019 downloaded 40 million times around the world. And its value was estimated at a billion dollars.