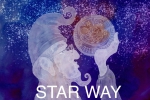 How to understand that before you is a PROFESSIONAL ASTROLOGIST who respects the basic principles of work?
Just notice what he tells you when you first meet him. If he immediately tells you where and when you were born, then you are not a professional.
The fact is that the astrologer must initially fit the natal chart for you by 100%.
This means rectification. And it's not easy.
The essence of RECTIFICATION is that an astrologer, having information about a person, can indicate his time of birth. And the horoscope corresponding to the date of birth optimally describes a person.
This is a task for professionals, as well as for those who know how to use astrological computer programs, in particular, the STAR WAY astro program
For example, you inform the astrologer about the exact time of birth and the main events, he indicates the dates and works on the natal chart.
In the course of work, he sees a move in childhood and is asked: did you move at the age of 10?
You answer: no, not at 10 years old, but 12. In accordance with your clarifications, the astrologer must shift the entire chart for a few minutes, which will significantly affect the overall picture.
So, keep in mind that rectification is a kind of litmus test for checking the professionalism of an astrologer.