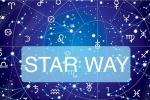 In February, the stars did not plan negative events for the zodiac signs.
You can relax a little with what you and congratulations!
We are preparing not to pay the bills, but to receive a karmic reward and painlessly get rid of karmic debts.
FEBRUARY 10 - Mercury retrograde trine with Ascending Node will bring the meeting or information that is needed for spiritual growth and movement forward.
The event can start somewhere in the past or the news will be related to past events.
The aspect affects GEMINI, VIRGO and AQUARIUS.
They will change their mental attitudes towards many things.
FEBRUARY 15 - the trine of Venus with the Ascending Node will give new hobbies and hobbies, interest in new forms of art, and this contributes to spiritual progress, and maybe it will determine the future.
A fateful personal meeting is possible. The aspect will affect Taurus, Libra and Aquarius.
TAURUS will feel an interest in a new profession. LIBRA will find a new hobby that they take very seriously. They may also have an important romantic meeting.
AQUARIUS will discover new things, qualities in people, genres of art that will radically change their aesthetic tastes and the way they look at who is cute and who is not.
FEBRUARY 21 - the connection of the Moon with the Ascending Node will allow you to learn something new about yourself, emotions, state of mind and habits.
Meeting, acquaintance, new information, some kind of situation that you will observe in the environment will allow you to develop new habits and adaptive mechanisms.
The aspect will be important for Gemini and Cancer. Gemini will work on their emotions and automatic reactions.
They will see that they reacted to a lot out of habit, according to some old, well-established patterns that developed many years ago and have nothing to do with what is happening with Gemini now.
Cancers will look very, very deeply into themselves and correct their psyche, wounded by childhood losses and fears. They can awaken psychic abilities.
FEBRUARY 26-27 - The trine of Jupiter with the Ascending Node will bring everyone the reward they deserve in karma.
The aspect will most strongly affect GEMINI, SAGITTARIUS and AQUARIUS.
All these signs will receive a chance of social growth and new opportunities. Doors to new achievements will open before them. Today they must defend justice and uphold social values. Then they can step forward.