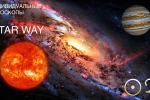 September 9 and 10 - trine of the Sun and Jupiter. This is a happy aspect that symbolizes success, fame, honor, recognition, wide opportunities, a wide range of options, increase and expansion of something useful and good.
And now about WHAT WAITS for the signs of the zodiac:
OVNOV
recognition and honor among colleagues and subordinates.
Taurus
winning entertainment contests or competitions, winning the lottery.
TWINS
there will be good luck in family and household chores.
CANCER
a bright and important acquaintance awaits; success in trade and mediation.
Lviv is waiting for financial success, there is an opportunity to receive a prize, reward or valuable gift.
Virgo will be in the spotlight, new paths for self-realization will open.
LIBRA will be successful in secret activities, influential acquaintances will appear, but communication with them will need to be kept secret.
SCORPIONS expect success and recognition from friends and like-minded people.
For SAGITTARIUS these days the path to fame, success and recognition will open. They can get a promotion or get a high position, get a title, rank.
CAPRICORNS will be lucky far from home. They can become famous abroad.
AQUARIUS will receive a bonus, an inheritance, a bonus, a gorgeous discount. If they make investments, they will bring a good return. FISH will make a successful deal, conclude a successful contract. Great success with a husband / wife or business partner is possible.