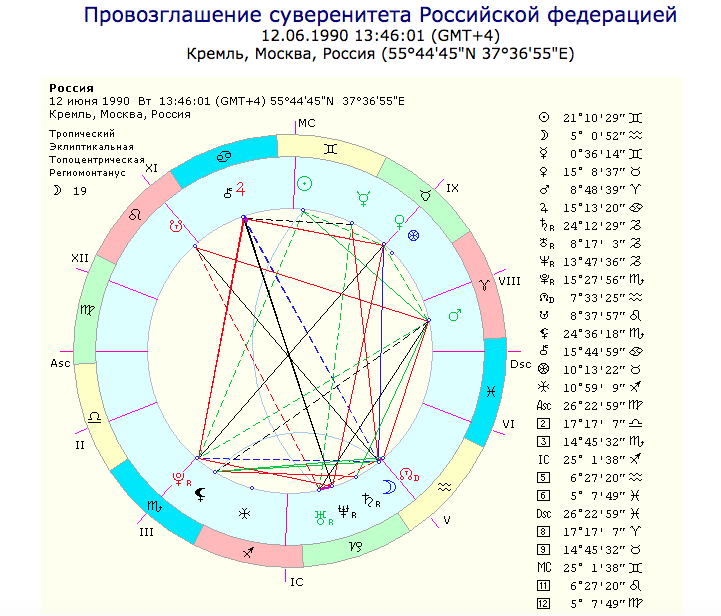 Today is June 12 - DAY OF RUSSIA. Until 2002, this day was the day of the adoption of the Declaration of State Sovereignty of the RSFSR. Interestingly, after the proclamation of the sovereignty of the Russian Federation on June 12, 1990, the events of 1993 and 1994 and other events fit well into the natal chart of Russia created for November 8, 1917 05:04:53.
This confirms the validity of the natal chart of the country created on 06/12/1990. When creating the first and second natal chart of Russia, and then comparing them, you need to take into account that with the government moving to Moscow on March 12, 1918, the coordinates of MC 23 ° 39'01 "Cancer and ASC 17 ° 00'25" Libra changed.
In the natal map of Russia, it is important to note that Mercury, Venus, Mars and Saturn are in the signs of their monastery, and Jupiter is in the sign of their exaltation, which undoubtedly reflects the high status of the native.
The sun in conjunction with the star Capella. Indication of some eccentricity, the ability to all sorts of antics.
The moon, in conjunction with the star Bos, fully reflects the situation that the population of Russia can succeed in the field of activity that is most attractive. As described in some sources - it can be a business, military business or some kind of illegal activity.
Almuten maps Mercury. He is in the first degree of Gemini. This is an indication of the quickness of mind, cunning, deceit, foresight, originality, enterprise. Intellect rules over instincts. Collectivism, duality, adaptability. Multilateral talents. Ability to do not only for themselves but for others. Unusual patience in work that requires precision.