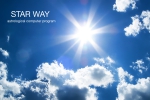 What awaits us at the end of March 2021?
First, the conjunction of Mars and Rahu continues until March 31, which began on March 21.

If you don't remember, then Rahu is the Ascending Lunar Node, which indicates the path of our evolutionary development, our destiny.
Therefore, during this period, active, proactive, enterprising and decisive people will have a great chance to open the door to a happy future.

We are talking about opportunities to find an interesting project for implementation, about turning into a new, but promising, channel for yourself, about dismissal from a hated job and starting your own business, etc.

Since March 23, another planetary core is formed in the sign of Aries, which includes Chiron, the Sun and Venus. This core will last until April 2.

When Chiron, the planet of difficult choices and fateful decisions, comes into play, then, unequivocally, wait for difficult life situations that require great intellectual, emotional, and sometimes physical, costs from us.
In this trinity, the strongest will be the Sun, which personifies our personality, Ego.

Chiron and Venus feel bad enough in this position, since the sign of Aries is a place of exile for them, so you should not count on high rationality, thoughtfulness, practicality, strong analytical and strategic abilities.

Venus in Aries is devoid of reason, but is endowed with high emotionality, sensitivity, resentment, greed, vanity and the desire for competition and opposition. So, control yourself.

Another important conjunction of Mercury and Neptune in Pisces will take place on March 28.
Mercury feels very bad in this sign. But you can withstand, since this coalition will only exist until April 1.
Neptune, suppressing Mercury, will weaken our intellectual abilities, make us more inert, lazy, absent-minded, irresponsible and undisciplined.

In addition to the above effects, Mars will occupy the destructive 13 degrees of Gemini on March 25th.
On this day, there is a risk of facing deception, fraud, betrayal, and becoming a victim of gossip and intrigue. The danger comes from an unfavorable environment, so be careful and selective in your communication.