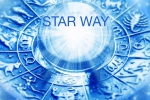 13TH OF JANUARY:
WHAT CHANGES WILL THE NEW MOON IN CAPRICORN?
The month of Sagittarius and the time of holidays are over.
The new moon in Capricorn heralds an active business life.
A couple comes to communicate at work, business, with officials, contacts with all kinds of systems (education, healthcare, utilities, etc.).
In the January new moon, in addition to the luminaries, Pluto participates. Long-term plans will require a radical restructuring of your entire life, or life will change due to a new turn in work and business, or new long-term tasks will appear.
In the new moon, energy flows associated with hierarchical, structured egregors will intensively enter life. They will appear in the area of ​​life that is associated with the sign of Capricorn in your horoscope.
For example, if Capricorn is related to money for you, then the financial situation will change due to changes in the foreign exchange market.
And if Capricorn is associated with the inner circle, then representatives of different structures will appear in your social circle - ministry workers, officials, teachers, doctors, administrative workers.
They will enter a person's life imperatively, not at his will, and not at their initiative, as if fate itself deliberately brings them together.
Больше информации об этом исходном текстеЧтобы получить дополнительную информацию, введите исходный текст
Отправить отзыв
Боковые панели
История
Сохраненные
Предложить перевод