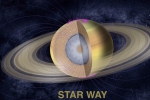 From May 11 to September 29, 2020, Saturn began its retrograde movement.
Saturn's energy is heavy, but relatively understandable and predictable. In astrology, this planet is considered more creative, so the beginning of retrograde can be called a negative day. The same applies to the entire period as a whole - until September 29.

The main drawback of Saturn's retrograde is a reduction in the supply of power in people. It will be harder for us all to overcome obstacles in our path and more difficult to look forward, because there will be more reasons for frustration and anxiety.

The most important and critical area of ​​life will be work. Expected problems with mindfulness and memory. Saturn in Capricorn, which will begin to move in the opposite direction, will make sure that all the most important matters disappear from the radar.
Do not be surprised if you suddenly begin to recall what you should have done a week ago, but you did not. You can solve the problem quite simply - keep a to-do list and carefully monitor the dates, the approach of deadlines. Otherwise there will be unpleasant surprises.

It is very important to monitor your own authority, as any trifle can soak it. Do not give empty promises to colleagues, partners, superiors. Try to be more open and honestly talk about what you can and cannot do.

Saturn and Capricorn together are responsible for the value system, the ideology of man. At the very beginning of the retrograde path of the planet, most people will feel how their opinion of themselves and the world is changing. It is possible that the reverse movement of the planet will lead to a change in priorities in life, the setting of new goals and objectives.

In any case, changing ideology and goals in life will become easier than usual. It will be easier to abandon the old and accept the new. This is an ideal time to give up bad habits, to start a new life. You can safely end your obsolete relationships, interrupt communication and get rid of unnecessary people who are toxic and negative.

Positively, Capricorn can affect the desire to see something new in your home. Many will visit inspiration for repairs, furniture relocation, relocation.

In the period of retrograde Saturn, the main thing to remember: think twice before making a choice!

If you are interested in conducting an astrological study for the near future, we recommend the STAR WAY astrological computer program to help.
If you have questions about connecting using the program, write in the messages of the STAR WAY page.