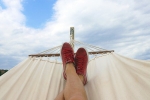 Astrological forecast for the weekend: on Saturday you can make good purchases, on Sunday it is better to relax.
Lunar Saturday will be very successful. This is an auspicious day when it is better to do small things that can be completed quickly and rest periodically. Definitely, you shouldn't overexert yourself on Saturday.
The best thing is to go shopping, buy something for the future. The items bought this Saturday will wear well and for a long time. Sundays - Caution! This day will press, squeeze out of us resentment against other people. Therefore, until 16:00 on Sunday, we advise you to spend calmly and as much rest as possible, not to do any serious business.
But after 4 pm on Sunday, the whole evening can be planned, dreaming.