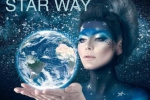 February 2021: VENUS in AQUARIUS.
At such times love comes to people in unusual forms. Its manifestations are unusual and do not fit into our picture of the world.
Everyone seems to forget that there are social conventions about how to express romantic interest and courting. The candy-bouquet period is in oblivion.
People begin to experiment and in some cases the object of courtship does not realize that this is being shown signs of attention, or does not know how to react to them - they are very unusual.
And yet, Venus in Aquarius is a wonderful time.
Those social conventions that prevent us from being happy are also disappearing. People pay less attention to each other's income and social status, do not bother with questions like "Is it proper for a woman to call a man herself?" etc.
Since Venus is also responsible for everything that we like, get ready to change your tastes.
You will see beauty where you never thought. You will appreciate new fashion trends, take an interest in new trends in art, people with non-standard appearance will seem attractive to you.
You will begin to enjoy the unfamiliar things. Tastes in food, entertainment, sensual pleasures will change.
In terms of money, Venus in Aquarius advises not to walk already trodden paths, but to look for something of their own.
Experiments and innovative projects will generate more revenue than traditional lines of business.
Groups of enthusiasts who team up to do something interesting can make good money.
Internet sites, social networks, webinars, conferences, team entertainment will generate income.
Больше информации об этом исходном тексте