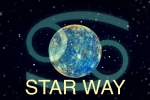 IN JUNE, PRIORITY HOUSE AND FAMILY - MAY 28, MERCURY IN CANCER
On May 28, an important astrological event is ahead - the ingression of Mercury as a sign of Cancer. Mercury controls communication and movement, and each of us goes somewhere and communicates with someone every day.
And if until today Mercury was in Gemini - the most sociable sign of the Zodiac, then it will go to Cancer - the most closed and incredulous sign, revealed only to loved ones.
An interesting period will be from June 18 to July 13, when Mercury goes retrograde. It will be possible to collect information related to the past of the family - recover lost documents, search the archives for information about ancestors, establish contacts with relatives that have not been seen for a long time.
What can be done during this period?
1. Confidently speak with loved ones, establish relationships with relatives, open the soul to friends.
2. Discuss home and family affairs, consult at home about repairs or relocation, visit a family psychologist. 3. Ride on the affairs of family members, decide on issues of their employment, study, treatment, etc.
4.Travel the whole family, go to visit relatives, visit the city where you grew up, visit the places where your family came from.
What should not be done during this period?
1. To expand the circle of communication, start conversations, which means easy and superficial communication on general topics, and tell strangers about family affairs.
2. Solve business issues to the detriment of domestic ones.
3. Firmly promise something (Mercury in Cancer is changeable, and your circumstances may change).
4. Start organizing a trip, moving, a deal, paperwork, which will not be fully completed until June 18.
From June 18, Mercury will go retrograde, the business will slow down, and when you can deal with it again, new circumstances will appear in it.