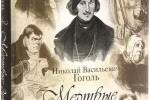 On June 11, 1842, Nikolai Gogol's poem "DEAD SOULS" was published. This is perhaps one of the most prominent examples of a literary work with an astrological basis.
In the poem, you can view all the "planets" of the classic set, except for the Sun. Astrological types pass in front of the reader in the order of the planets of the solar system.
All planetary characters bear the imprint of the corresponding planets in Gogol's horoscope. For example, in Manilov - Venus is marked by the influence of the IX house. There stands the natal venus of Gogol. Manilov is immersed in abstract reasoning and dreams, he needs a companion. Chichikovu Manilov demonstrates the education of his children in the field of geography. The sons of Manilov bear foreign names, one of them the father wants to see as a messenger.
Gogol's moon - in the I I I house. The box, unlike Manilov, is a very specific type of thinking. She even wanted to use dead souls for household needs. Throughout the entire conversation with Chichikov, Korobochka invites him to purchase various goods.
Nozdrev's cash problems are Mars in Gogol's II house. Sobakevich in Jupiter in VI I I house. The history of Plyushkin Gogol gives out as the position of his Saturn in the IVth house. Last name - Plyushkin - suggests the moon.