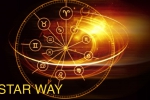 WHAT awaits from 11 AUGUST Taurus, Rakov and Lviv?
The first hours of 11 AUGUST will be fateful for TAURUS.
The conjunction of the Moon and Uranus in their sign will bring unpredictable changes closely related to the concepts of freedom, release from control and obligations, and a change of image.
For some Taurus, changes will occur of their own accord. Such people may feel jittery, anxiety, insomnia, everything will fall out of their hands, it will be vital for them to escape from the usual course of things.
Other Taurus will not even think about changes, but they themselves will find them. For such people something sudden will happen, which does not correspond to all their everyday circumstances, something that could not have been foreseen at all. This event will give Taurus more freedom and change their personality.
And a specific sphere of life, with which the event will be connected, must be looked at by the personal horoscope of birth, which can be done using the astrological computer program STAR WAY.

Of course, all that has been said applies mainly to those Taurus, in whose time zone it is working time. But for some, events can occur at night.
AUGUST 17 will be the Upper Conjunction of Mercury, which will turn out to be fateful for LIONS and Fire signs in general.
The day of the Upper Connection kicks off what was first conceived for the Lower Connection, in early July.
During Lower Conjunction, people become dissatisfied with what they have. They see where something needs to be changed. New interests and new plans appear. Then, within a month and a half, these plans were overgrown with specifics and preparations were underway to make the plan.
And now the moment has come when the plan is being implemented.
Connecting in Leo speaks of the creative and vibrant nature of the event. This can be opening a restaurant, holding a concert or a holiday, starting a sports competition, taking a leadership position.
Lions and their Elemental counterparts - Aries and Sagittarius - will have something that they did not expect.
Since the Lower Connection was in Cancer, an important event will also occur for CANCER.
But for Cancers it will be predictable, this is what they themselves have been preparing for lately.
Another fateful event for LVIV will take place on 19 AUGUST.
The morning of this day will be the New Moon in the sign of Leo. The New Moon is an important astrological event for everyone, but it will become fateful for Leo. It marks the beginning of a new cycle of development, spiritual growth, new aspirations, a more complete disclosure of the personality.
From the New Moon, new situations will begin to take shape in which Leos will be able to fully realize themselves. But not only their existing abilities will become more in demand.
Lviv will have an opportunity to learn and develop new talents.
Interestingly, Mercury is located two degrees from the stars on New Moon. This indicates that other people, close circle of friends, brothers and sisters, mediators, studies, information, short trips will take a large place in the events of the coming weeks.
Leos need to remember that "you cannot easily pull a fish out of the pond": almost immediately after the New Moon, the Moon, and a few days later, the Sun will pass into the sign of Virgo.
This means that in order to achieve something, you will need to work hard and hard, pay attention to practical details, and attract employees.